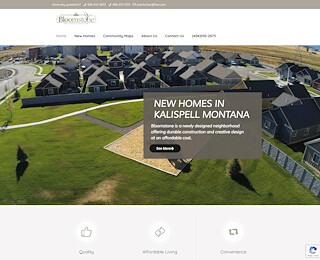 Kalispell homes are no exception to the skyrocketing housing prices in the United States. However, at Homes Kalispell Montana, our company believes in quality at an affordable price. New homes are selling for as low as $200000.
Prospective buyers are eagerly vying for their piece of iconic big sky country in the Bloomstone subdivision where we are constructing a lovely cottage home series.
Where Can I find Affordable Homes in Kalispell Montana?
The Bloomstone subdivision is a 79-acre subdivision with stunning vistas of the Flathead Mountain Range. We, Homes Kalispell Montana, offer three different housing models in this area for as low as $200000. In production since 2015, the average home price is $22000. Our company plans to erect over 140 cottages.
The average housing price in Bloomstone is $54000 beneath that of Kalispell overall. With the typical Montana home price climbing from $176000 in 2012 to $235000 in 2018, we are offering new single-family homes for less than the average listing price in the entire state. Kalispell homes are more accessible to the masses than at any time in the past five years.
Where Can I Find Quality Homes in Kalispell Montana?
Our Aspen, Birch, and Cedar models in the Bloomstone subdivision are between 1268 and 1480 square feet on lots ranging from 4300 to 4500 square feet. Each home consists of three bedrooms and two bathrooms making them ideal for single families.
Homes Kalispell Montana does not compromise on construction quality even while other Kalispell homes sell for more than the state average. Each house is built with a fiberoptic communication package, two-car garage, and front porch. The materials are sturdy and capable of granting you peace of mind.
What is there to Do In Kalispell Montana?
The town contains numerous trails and parks and is a gateway to Glacier National Park and Montana's majestic mountains, streams, and lakes. Kalispell sits at a unique wilderness crossroads. Glacier National Park, Turner Ski Area, and the Flathead reservoir are within a half-day drive from the town and the Bloomstone subdivision.
Residents of Kalispell also enjoy shopping on Main Street and eating at one of the many terrific venues on Sunset Boulevard after a long day at work, in the backcountry or lounging in their backyard. The town even has a symphonic orchestra, art museum, and community theater.
What Amenities are there in Kalispell Montana?
A regional medical center, good schools, and the Flathead Valley Community College are all within city limits and just minutes from the Bloomstone subdivision. Even in the small-town setting, our homes offer high-speed internet and the comforts of modern life. As the county seat, Kalispell is well suited for growth.
Homes Kalispell Montana offers an affordable and quality housing option in the heart of Big Sky country. With dozens of recreational opportunities and the amenities of a big city packed into a town of only 23,212, you can breathe easy without spending outrageously in the Bloomstone subdivision. Contact us today to start building your dream high country home.